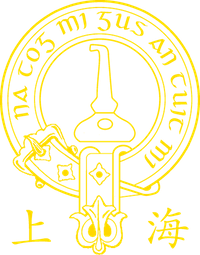 The Shanghai Malt Whisky Society began in 2006, when four expats would meet in an apartment in Shanghai to share their love of whisky. At some point, they heard that a fellow whisky lover was holding blind tastings in O'Malley's Irish Pub and decided to pay a visit. It was there that they met Tam Lang (our club Chieftain) and decided to start a regular, informal whisky gathering at O'Malley's.
The price of admission during those early days was one bottle per member. However, after the number of members grew to around nine or ten, there soon was more whisky at the meetings than could reasonably be tasted, despite everyone's best efforts. Within short time, a formal constitution was drawn up, the club was officially registered, and member dues were collected for the purchase of whisky.
Today, the club has seen almost one thousand different members from around the world pass through. We are a non-profit, and collect money for a local charity in Shanghai, Bo Ai Children's Rehabilitation Center. The charity cares for children with cerebral palsy, autism, and Down's syndrome, and each year we give money generously donated by our members, totaling more than CNY100,000 since the club was founded.
The club meets once a month to do blind tastings or themed tastings of single malt whiskies from around the world, although the majority of bottles hail from Scotland, home to most of the world's malt whisky distilleries. In addition to our regular meets, we hold other events from time to time, often in conjunction with distilleries visiting Shanghai. Notable events include our summer barbeques, with a focus on bourbon from the United States, and our Christmas dinners, which feature premium and rare malts.
We are a private club, but it's all very casual and relaxed; anyone is welcome to turn up to one of our regular meets unannounced and join us for a dram. We welcome new members, whether they are experienced lovers of whisky or novices looking for something new.
We meet on the last Sunday of every month at Sasha's, Shanghai.